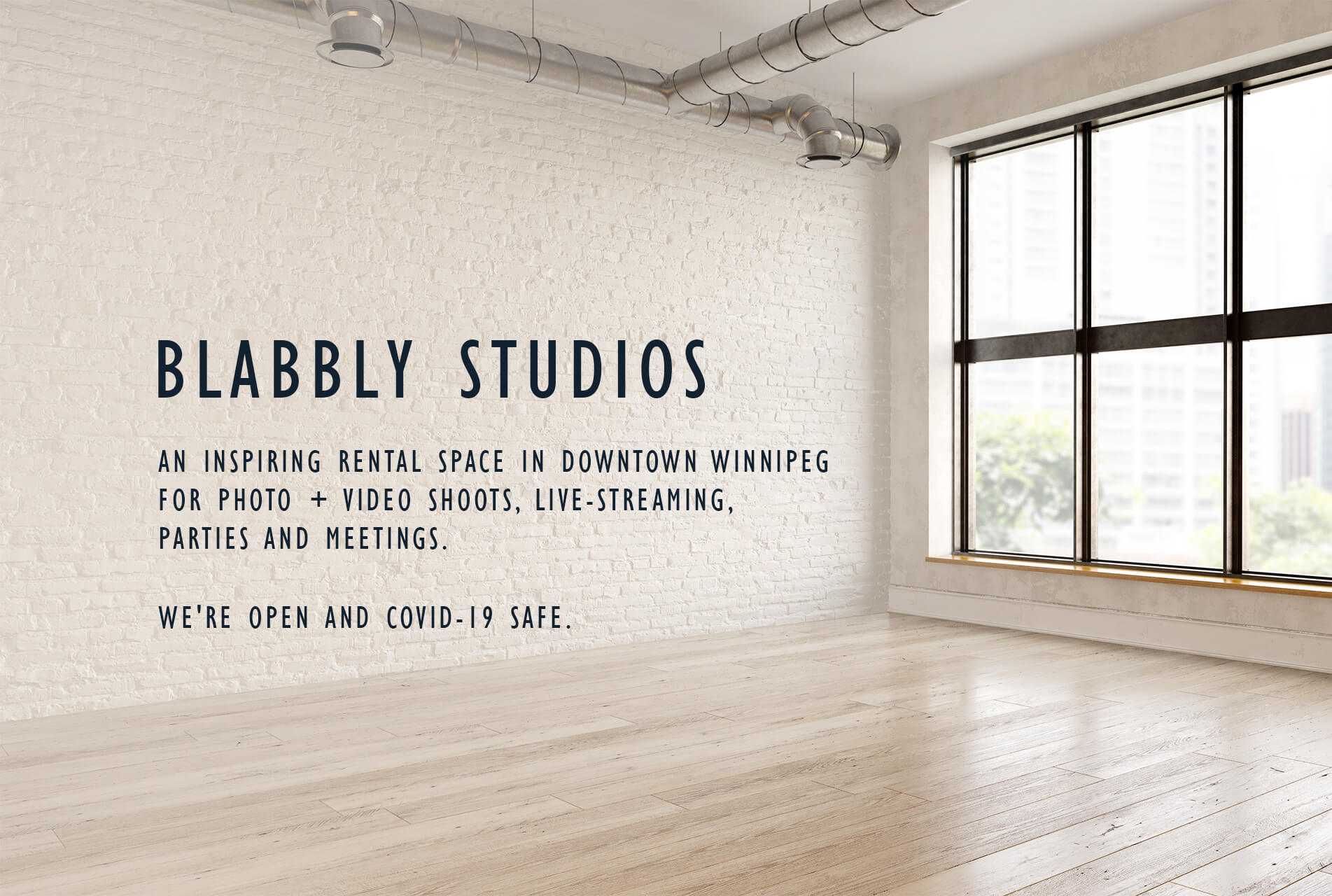 With 3000 Sq. Ft. of open concept studio space beneath vintage 17' vaulted ceilings and stunning floor to ceiling factory windows, Blabbly Studios breathes life into the largest and most versatile studio space in Winnipeg. With over 10+ custom walls and movie quality stage props, photographers and videographers are able to dream big and draw in deep & dynamic creative inspiration without the need to rent multiple studio spaces. See our list of amenities below and find out how Blabbly Studios provides more value to creators than any other studio in the city.
3000 Sq. Ft.

10+ custom walls

Industrial Windows
17 Foot Ceilings
Black-Out Drapes

Studio Lighting

Photography Trolley

Standard Furniture
Standard V-Flats
Apple Boxes

Make-up Room
Bluetooth Speaker
Water and Coffee Station
Insanely Fast Internet
Climate Controlled

Washrooms

Full Service Bar

Community Kitchen

Loading Dock

Freight Elevator
We wanted to develop a 30 second video ad to be used to promote our products and business. Blabbly was able to do everything in house and that helped us with the cost. Blabbly came up with the concept of the advertisement, prepared the script, got the props, hired the actors, arranged the photographer and videographer and then shot the video and did all the editing. Everything was coordinated by them and we were kept in loop at every step. The final product turned out to be amazing. Thank you Blabbly!

They have amazing in-house photographers. I wanted to get a photo shoot done and use the photos to promote my yoga business. So I took all my yoga outfits and props. The photographer was very patient and understanding on what I was looking for. He also helped me create various setups. He got the vibe and his music choice was perfect for the season. Got me in my grove, made me feel super comfortable and helped me get the best possible season. The photos have turned out super well. Can't wait to use them.

I did a music video shoot at Motto. I am new to Winnipeg and so don't know a lot of people here. When I got in touch with Motto, I told them that I needed a few models and certain props for my music video. They understood my requirements and where in constant touch with me, updating me on the status of my requests and taking my inputs. They were able to arrange everything on time. The props were in great condition and the models were really nice and played their roles in the video perfectly. The video will be on YouTube soon and I hope to be back at Motto to shoot more music videos.

Now this is what Winnipeg was missing. Downtown and Exchange have some beautiful spots for outdoor shooting. But all the photography studios have the same theme and limited options when it comes to backgrounds and backdrops. Motto has some beautiful themes, backdrops, and furniture. Ranging from clean to hiphop, from vintage to modern. And yes, they have white and green screen as well.
Photographer
Videographer
Interview Set
Furniture
Stage Props
Equipment Upgrade
Green Screen
Green Suits
Storage Space
Custom Prints
1 hour - $60 2 – 4 hours - $50/hr 5 – 8 hours - $45/hr